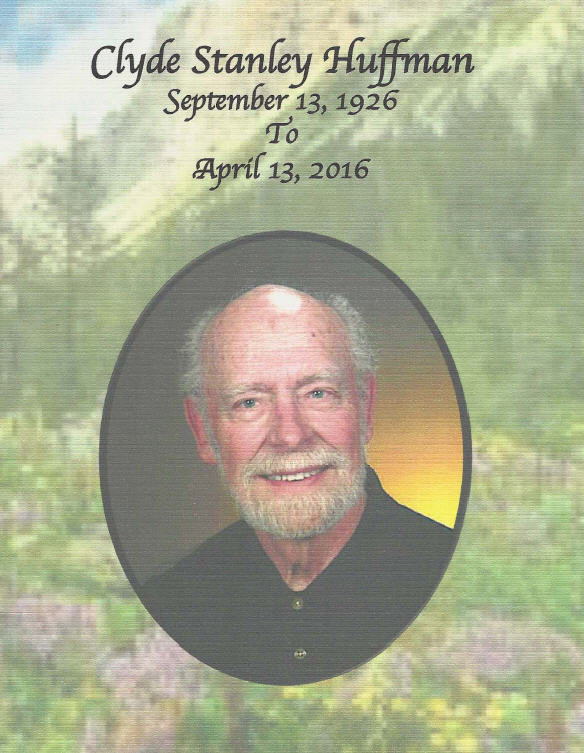 The following Eulogy was presented by Steve Speier at the Celebration of Life service for Clyde on April 27, 2016 at the Chapel of the Oaks in Oakwood Memorial Park, Chatsworth, CA.
EULOGY OF CLYDE STANLEY HUFFMAN
Clyde was born September 13, 1926 in Bingham, Utah to Clarence and Roberta Huffman. He had one sister, Alma and three brothers, Jerry, Dick and David. He was preceded in death by his parents, sister Alma and brother David.
Clyde has three sons, Grover (whose wife is Sherie), Allan, and Jim – four grandchildren, Aaron, Eric, Julie (whose husband is Jordi), and Esmeralda – two great-grandchildren, Claudia and Gabrielle.
Clyde graduated from the University of Utah with a Master's Degree in Geology. While attending the University, Clyde worked alongside his father (who was a locomotive engineer) and his brothers at the Kennecott Copper Mine at Bingham Canyon, Utah. One of his most memorable jobs was as a "Gandy Dancer" working on the tracks. He and his buddies formed a company to mine Uranium (however, the company went bust). He soon realized that following his chosen profession as a geologist kept him away from home for months at a time. He decided he would pursue a different path. He then obtained his Industrial Engineering License, and his career path subsequently took him to the aerospace industry in California. He spent 35 years in Information Systems technology.
Clyde served with the United States Army in World War 2. He then reenlisted with the United States Air Force during the Korean War. With his heavy equipment and geology background, they put him to work extending the runway at Gimpo in Seoul (now the Gimpo International Airport).
Clyde married Christina Colyer on October 14, 1967 at Prince of Peace Lutheran Church in Northridge, California. They had no children, but did have custody of his three sons from a prior marriage.
Clyde's religious upbringing began as a Jehovah's Witness, and then in his early 20's he joined the Mormon Church. Clyde's conversion to Christianity came unexpectedly one day in the late 1960's when he awoke to hear the radio playing the song by Simon and Garfunkel "Mrs. Robinson" –
And here's to you, Mrs. Robinson, Jesus loves you more than you will know. God bless you, please Mrs. Robinson. Heaven holds a place for those who pray…….
Clyde had a sense that this was a personal message to him from God. From that point on, he was on fire for the Lord. Clyde's greatest passion was the study of the Scriptures. Clyde and Chris took classes at the University of Judaism in Los Angeles to study Biblical Hebrew. Clyde also spent many hours learning the Greek language. It was important to him to study the Scripture in the original language. During his 40 plus years of intensive study, he wrote many white papers compiling his views gleaned from the Scriptures.
Clyde taught numerous Bible studies and home fellowship groups. He spent several years working with a Korean youth group in Los Angeles. They would meet every Saturday evening to sing praises and study the Scriptures.
Clyde loved his horses and he and Chris enjoyed many hours riding in the Anza-Borrego Desert and Tuolumne Meadows in Yosemite Park. He enjoyed camping and traveling. His hobbies also included oil painting, sculpting, and he had an extensive collection of Vinyl LP Records.
After Clyde's retirement in 1991 at age 65, he stayed busy as a volunteer for the Cancer Society's Discovery Shop in Northridge, California. In 2004, Clyde and Chris moved to Port Angeles, Washington with their two dogs and three horses.
He became a member of Gideon's International in January 2007. His passion for the Lord extended to supporting this organization that is committed to distributing the Bible throughout the world.
Clyde enjoyed RVing with our Church friends. He was introduced to Bluegrass music and soon was attending Bluegrass Festivals throughout the West.
I'm sure Clyde's trademark smile will be part of him forever now that he is with the Lord.
This post is open for Comments.