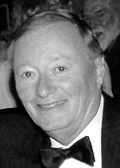 James Anthony Lynch Jr.(1942 - 2012)
July 25, 1942-Jan. 9, 2012
James was born in Brooklyn, N.Y., to Rita and James Lynch. He earned a B.S. in electrical engineering from Brooklyn Polytechnic Institute. After serving his country in the Air Force, he enrolled in the Masters Engineering Program at Penn State. He worked as an engineer for Philco-Ford in Philadelphia before relocating to Silicon Valley in 1974. In 1980 he was recruited by Litton Industries and settled in Conejo Valley.
He retired to a life of Bridge in the mid 1990s. James was a Gold Life Master and a Certified ACBL Instructor. He played and directed games at Thousand Oaks Bridge Academy II, attended conventions, and taught bridge on cruise ships for two decades.
James is survived by his close friend of several years, Ann Dupont; three siblings; his four sons, James, Daniel, Gregory, and Robert; his nephew, John; and four grandchildren.
Friends are invited to attend a memorial service at 3 p.m. on Friday, Jan. 27, at Pierce Brothers Valley Oaks Memorial Park, 5600 Lindero Canyon Road, Westlake Village. On-site reception following service.
In lieu of flowers, the Lynch family requests donations be made to the American Cancer Society