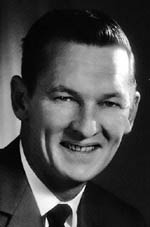 Thomas M. O'Donnell
1923 - 2006

Thomas M O'Donnell, 82, of Camarillo passed away Tuesday, May 2, 2006.

Tom was born June 5, 1923, in New York City, N.Y. He attended City College of New York, Fordham University and University of California, Los Angeles. Tom was a Purple Heart veteran who served as a proud Marine in the 4th Division during World War II in the Pacific.

After the war, he graduated from UCLA and opened his own venetian blind business. He was employed by Hughes Tool Co., Avco and, for 25 years, with Litton Industries. At Litton he was vice president of marketing at DSD and prior to retirement in 1986, he was president of Litton Data Command Systems and Litton Saudi Arabia Limited and elected vice president of Litton Industries Inc.

Tom married Mary, his wife of 59 years, in Los Angeles on June 21, 1947.

He is survived by Mary; their four children, Paula Marsh of Folsom, Michael O'Donnell of Sherman Oaks, Helen O'Donnell of Santa Rosa and Jennifer Karazissis of Calabasas; and his sister, Judy Colonel of Dallas, Texas.

Tom's favorite activities revolved around family, especially his five grandchildren and three great-grandchildren; and travel and golf. He combined these activities by taking the family on golfing vacations around the world. His generosity was felt by friends and community. He financed start-up businesses and coordinate capital improvements for his church, and was a contributor to California Lutheran University in Thousand Oaks.

He was the patriarch of the O'Donnell clan, the mentor to many, and the giver of his time, talents and respect. He will be greatly missed.

A memorial service will be held at 4 p.m. Thursday, May 11, at Mount Cross Lutheran Church, Camarillo.

In lieu of flowers, the family requests donations be made to the American Diabetes Association, Mount Cross Lutheran Church Endowment or the charity of choice.

Published in the Ventura County Star from 5/9/2006 - 5/12/2006.