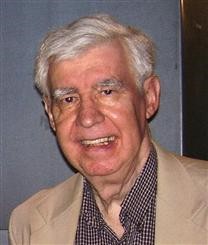 Calvin Maurice Olson
January 23, 1933 - February 14, 2010

Calvin Maurice Olson was born in Waubay, SD on January 22, 1933 to parents Ruby and Maurice Olson. He lived in Summit SD through high school, and started Augustana College in Sioux Falls, SD in 1951. In 1953, he joined the U.S. Army and was in the Army Security Agency stationed in Germany for 3 years.

In 1956, he returned to the United States and resumed his college career at Augustana. It was here that he met Barbara Amland. They were married August 17, 1958 in Sioux Falls. The day after the wedding they drove to California, and never returned to the snow.

In California, Calvin attended Graduate School in English Literature at UCLA. He spent a time holding cue cards for television before starting at Litton Systems in 1961, where he worked until he retired in the 1990s. He eventually worked his way up and became the Vice President of Marketing.

Calvin and Barbara bought their first house in Woodland Hills, California in 1966 and joined Shepherd of the Valley Lutheran Church. There they made friends they kept for the rest of their lives. Daughter Lisa was born in 1964 and son Eric joined the family in 1967. The Olsons moved to Ocean Springs, Mississippi in 1972 where Cal worked at the Litton/Ingalls Shipyard in Pascagoula. They moved back to California in 1979 and settled in Thousand Oaks and joined Holy Trinity Lutheran Church. Barbara Olson passed away in December 1999. Calvin spent his retirement years planning and throwing theme parties, including themes like Lewis & Clarke, Mardi Gras, Syttende Mai (Norway's Independence Day), St. Patrick's Day, and Passover. He also was able to spend time with family, including trips back to South Dakota with his brother & sister-in-law, and time spent with his six grandchildren. In 2008, Calvin moved to University Village in Thousand Oaks.

Calvin Olson passed away on February 14, 2010 in Thousand Oaks. Calvin is survived by his daughter and family Lisa, Steve, Cory and Holly Lewis of Simi Valley, son and family Eric, Jody, Trever, Tyler, Sydney and Trenton Olson of Simi Valley, brother Darwin and Angela Olson of Palm Desert, CA, and sister Sharon & John Beardsley of Minneapolis, MN.