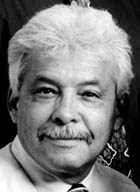 LOUIS NOLAND "MARTY" MARTINEZ
Nov 2, 1936 - Feb 26, 2009

Marty was born on Nov. 2, 1936, in Rock Springs, Wyo. After graduating from Rock Springs High School in 1955, he joined the U.S. Air Force and was stationed in Rapid City, S.D. He had his first three of five children, completed one tour of duty, and was honorably discharged in 1960. Soon after his discharge, he moved to California, where he began his long career with Litton Data Systems, and earned his bachelors degree from San Diego State University. It was around this time he developed a love for skydiving, and he performed hundreds of jumps all over the world.

As a field engineer with Litton, he traveled around the globe for 10 years, at one point landing in Denmark where he met his future wife. In 1971, they came to California, where they had two children. They settled in Newbury Park in 1978. His job sent he and his family to Jeddah, Saudi Arabia, in 1986, where they lived for two years. During this time he shared his passion for travel with his family, having safari adventures in Kenya, climbing pyramids in Egypt, and taking beautiful photographs of it all.

Once resettled in Newbury Park in 1988, he became actively involved in the local sports community, coaching his son's little league baseball teams. He began officiating basketball at all levels, which became a love of his. He was dedicated to being a referee for over 20 years in Ventura County. Marty also had a lifelong passion for golf and enjoyed playing with his countless friends in the golf community. He played competitively all over Southern California and was a member of Camarillo Springs Men's Club for 25 years.

Marty had a great love for people. He was always ready with a kind word, a joke, or a helping hand. His lively personality and quick wit endeared him to many, and his sense of humor and ready smile will be greatly missed.

He is survived by Lisbet, his wife of 36 years; his children, Kelly Martinez, Mark Martinez, Todd Martinez, Kristy Martinez, and Trace Martinez; 13 grandchildren; one great-grandchild; and his brothers and sisters, Benny Martinez, Lilly Burke, Eddie Martinez, Beatriz Martinez, and Sharon Gutierrez.

Services were held at Pierce Brothers Valley Oaks, 5600 Lindero Canyon Road in Westlake Village, Calif. There was a viewing from 5 to 8 p.m., on March 3, and funeral services at 11 a.m.