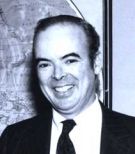 Thomas Dennis McAusland
December 4, 1932 - June 5, 2011




Birth: Dec 4, 1932
New York, NY

Death: June 5, 2011
Tarzana, CA

Tom passed away after an acute illness at Providence Tarzana Hospital. He was born on December 4, 1932 in New York City to Thomas and Mary McAusland. He attended St. Anne's High School in Manhattan, and then Columbia University, receiving a Bachelor's degree in Engineering.

He worked over 40 years in the Aerospace/Defense industry for Hughes and Litton, and specialized in international marketing. Many of his years at Litton were with Data Systems Division and he finished his career at Litton Computer Services. This employment led him all over the world, most notably Paris which became a second home.

He was known for his sense of humor and for hosting great parties with his wife of 42 years, Catherine. He was also an avid reader and a dedicated American. He wanted to serve in the armed forces, but had lost fingers in a childhood accident (leading to his high school nickname, the "missing deuce").

He is survived by a brother, Michael, and leaves behind his wife Catherine, his son David John, daughter-in-law Tanya and his daughter Marie Christine with son-in-law Craig. He also leaves a granddaughter, Jillian and two grandsons, Andrew and Michael.

A private Memorial Mass was held at Mary Chapel at Mt. St. Mary's College in Brentwood. Donations may be made in his memory to Providence Tarzana Hospital Foundation, 18321 Clark Street, Tarzana, CA 91356.

We will miss his infectious laugh and love for his friends and family.